We at ZERO know you're all busy with Christmas preparations but there's always enough time for a fast, fun, and free zombie story to get through the weekend.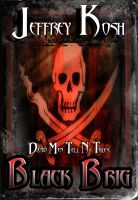 Black Brig by Jeffrey Kosh is a 21 page short story set on the high seas. When a ship of marauders leave a single survivor aboard the Perseverance, he must grapple with the horrific slaughter he witnessed while devising a way home. This is a zombie story without the traditional shuffling dead. Instead, unseen pirates and demons in the survivor's head create a world of the undead. The lyrical writing and the haunting plot will leave you wanting a longer story.
Black Brig is available free on Smashwords. If you enjoy Jeffery Kosh's free sample, he has a variety of stories available for purchase, including the novel Feeding the Urge.